About Aetrex Technology
Science & Technology for Better Health & Comfort ®
---
Aetrex History
Founded in 1946, Aetrex is the world leader in foot and insole scanning technology. For more than 74 years, Aetrex has designed innovative products that provide unmatched support, offset pressure, and better align the body. The goal: to not only offer incredible comfort, but to help consumers avoid setbacks by keeping them active and healthy doing the things they love.
Aetrex combines its history of foot health knowledge with more than 20 years of experience in software and hardware development. In 1999, Aetrex created the Foot Health Network, designing websites for retailers and driving customers to its websites and stores to purchase products to help with their foot care needs. The next step, the creation of Foot.com in 2000, is today the world's leading resource for foot health information.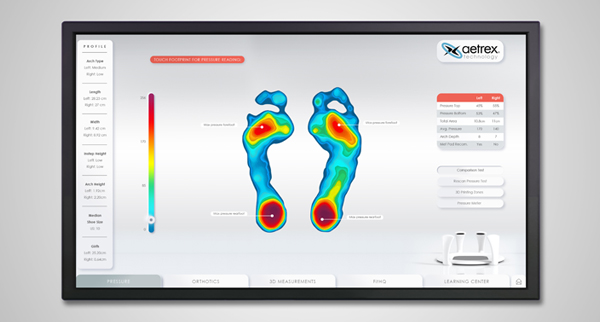 Pressure
Aetrex pioneered foot scanning technology in consumer markets in 2002 with the introduction of pressure plate technology called iStep, a revolutionary retail platform. The scan system was designed to differentiate a store's fit experience by capturing underfoot pressure data to help stores gather unique insights to market to their customers and drive tremendous untapped profit through the personalized selection of insoles specific to the type of foot.
Since 2002, Aetrex has placed more than 10,000 scanners worldwide that have performed more than 40 million unique customer foot scans, with a current average of more than 2.5 million scans per year. Aetrex has created the infrastructure and cultivated the hard-earned know-how to make the integrated foot scanning program a massive success for our partners. The Aetrex team includes a global sales and service organization of 30 people, extensive internal support, and a diverse team of technology developers, including experts in software coding, machine learning, computer vision, and optical and electrical engineers.
mobile integration
In 2018 Aetrex acquired SOLS, the leading developer of foot scanning apps for mobile devices, and launched the Albert Control Panel CRM, which provides partners with access to all data points collected from the scanners. The dashboard stores a wide range of consumer foot data that can be used for R&D, merchandising and creating powerful digital marketing campaigns tailored to targeted consumers.