Albert 3D Fit Scanner
Finally a state-of-the-art 3D foot scanner, affordable for all retailers
---
The Albert 3DFit scanner incorporates three-dimensional foot scanning capabilities with AI-powered shoe-matching software to help retailers and consumers find the right shoe the first time. With 4 Intel® RealSense™ depth cameras, voice activation software, a Learning Center where customers can ask questions about foot health, and a FitGenius™ plug-in tool for retailers, the scanner features Top notch technical features at a fraction of the price of the competition.
Specifications
4 Intel® RealSense™ depth cameras
Dimensions: 30.94' x 27.56' x 11.16'
Scanner Plate Height: 1.38'
Weight: 20.7 pounds
Glossy automotive paint for easy cleaning and moisture; durability
Warranty: 3 years
Albert 3D Fit Technology Features
---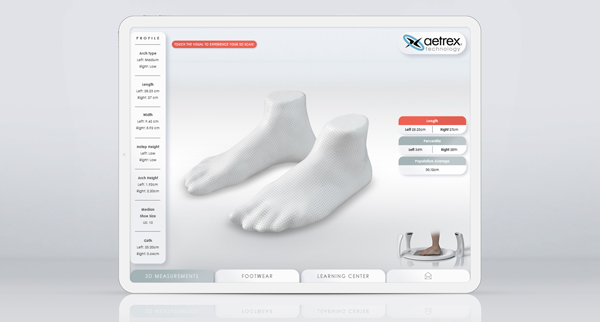 3D measurements
The Albert 3DFit foot scanner uses 4 state-of-the-art Intel® RealSense™ 3D depth cameras to capture the most accurate foot data with key measurements including length, width, circumference, inside step and arch height , all with a precision of 1 millimeter through the scanning process of 10 seconds. This data is converted into a 3D model to deliver an interactive consumer experience using more than 3.5 million data points.
Learn more about Intel® RealSense™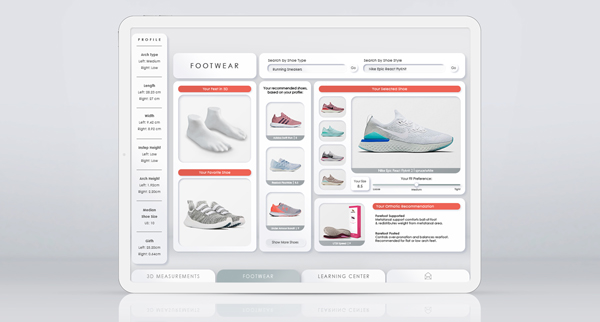 Albert FitGenius™ AI Platform
The software ensures a right-first-time fit using Aetrex's proprietary FitGenius™ artificial intelligence platform. The program can be synchronized with retailers' POS or e-commerce systems to help sales associates recommend the best-fit shoes by brand, style, and size for each customer, based on their unique foot scan. This includes your percentile among customers in Europe for each measure, to help put your size in context.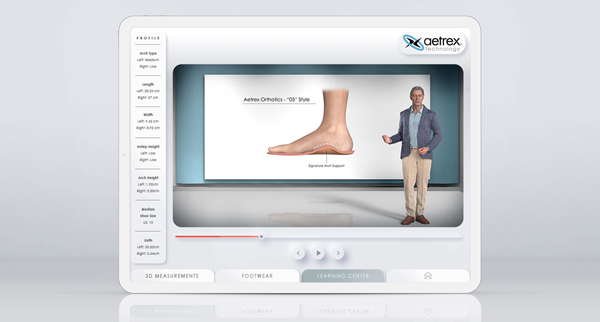 voice activated learning center
Albert, the lifelike 3D character, fully designed and animated in 3D, guides store employees and customers through the Learning Center. The voice-activated Learning Center uses Harman eNova technology to help store associates navigate the software and provide customers with information on foot health, foot conditions, and Aetrex orthotics with Just ask Albert a question.
About Harman eNova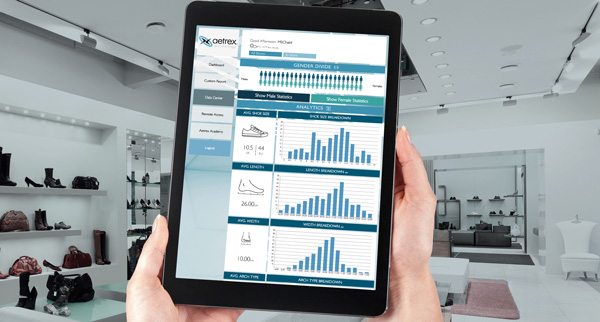 control Panel
Albert 3DFit's dashboard is a dashboard where retailers can easily access, filter and export all foot scanner data. The dashboard helps retailers monitor scanner usage by store and by sales associate. You can filter all customer foot scanner data by store, which can be used to create custom marketing programs targeted to customer needs based on foot size, width, arch height, and more.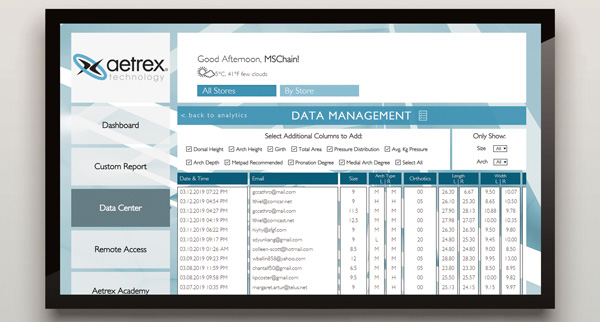 cloud analytics
Cloud Analytics is a highly secure and reliable cloud-based data analytics platform for Albert 3DFit. It uses Artificial Intelligence and a series of analytical tools to extract insights from the massive data collected from Albert scanners and present it in an easily categorized and readily available way through the Control Panel.