Unparalleled data collection and management
---
Data is key to understanding your customers and can be used to improve your business
Albert 2 captures complete and accurate customer foot data during the quick 20 second scanning process. The system can also provide foot scan data reports to retailers to help optimize the program in their stores. In addition, the user interface proactively captures customer information during the scanning process, making it easy for retailers to collect customers' email addresses, phone numbers, and more.
Foot scanner data
Pressure per sensor per 1⁄4 cm squared in kgs
.
Plantar surface of the foot per 1⁄4 cm squared
Arch plantar surface per 1⁄2 cm
Average pressure per sensor per 1⁄4 cm squared
.
Individual left and right foot measurements per 1mm of

Length
Broad
step height
step height
arch height
Shock absorber
Court
skin care
skin care
Read more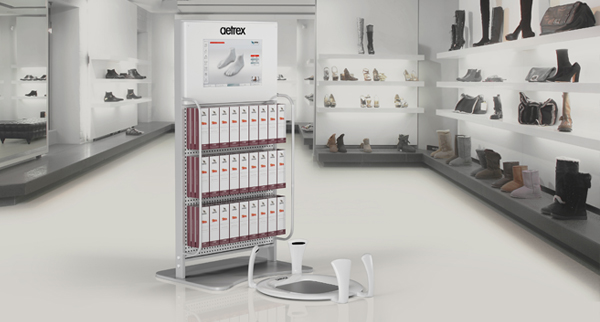 Retail Store Data
Information about the use of the scanner by the store and/or the sales associate
.
Automated weekly information via email by store and/or sales associate
Scan to Email or Mobile Number Acquisition Rate Report by Store and/or Sales Associate
With POS integration: customizable reports on scan-to-shoe sales by store and/or sales associate
.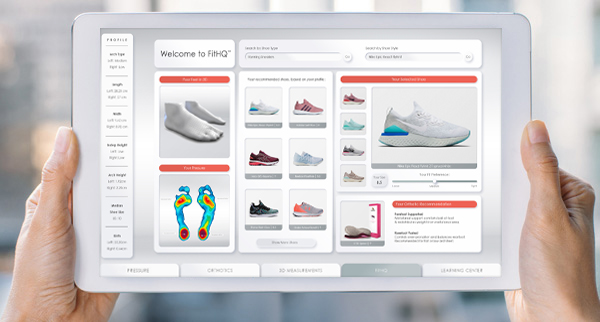 FitHQ
The software ensures a right-first-time fit using Aetrex's proprietary FitGenius™ Artificial Intelligence platform. The program can sync with retailers' POS or e-commerce systems to help sales associates recommend the best Aetrex orthotics or best-fitting shoes by brand, style and size per customer, based on their single foot scanner This includes your percentile among US customers for each measure, to help put your size in context.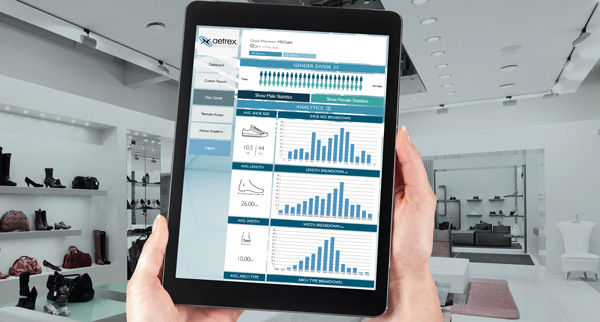 Albert Control Panel (CRM)
The Albert 2 Dashboard is a CRM dashboard where retailers can easily access, filter and export all Albert foot scanner data. The dashboard helps retailers monitor Albert 2 scanner usage by store and by sales associate. You can also filter all customer foot scanner data by store, which can be used to create custom marketing programs targeted to customer needs based on foot size, width, arch height, and more. .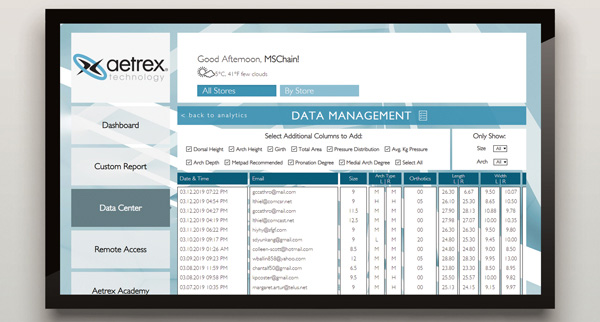 cloud analytics
Cloud Analytics is a highly secure and reliable cloud-based data analytics platform for Albert 2. It uses Artificial Intelligence and a host of analytical tools to extract insights from the massive data collected from Albert's scanners and present it in an easy-to-use way. categorized and easily available through the Control Panel.